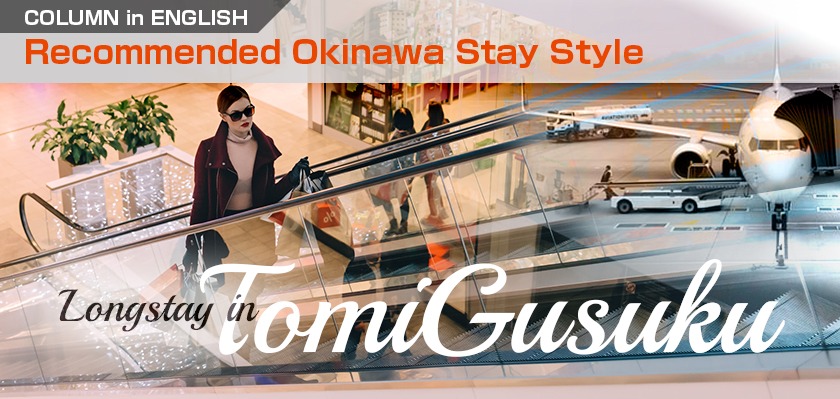 Staying for a long term means it will be your next home town.
So you would like to know essential things about the location in advance, such as public transportation or mobility around the town among many other things. Some might say "Home is where you make it", but it takes time to make a railway in Okinawa. If it is going to be the first time for you to stay for a long term in Okinawa, you would be even more careful evaluating the living environment.
Among many places for emigrating to Okinawa, Chatan town, at the geographical center of Okinawa main island, is always ranked at the top of many ranking listings nationwide, but we are recognizing one another location growing as one of the top rankers. For who always access to the airport like every week, we would like to recommend this new emerging town.
here is the column about Chatan, FYI
Referring to the various data about the demand and supply of newly developed apartments and and future projection to this date, one town is emerging as a big figure in the southern part of Okinawa, which is called "TomiGusuku" or "TomiShiro".
TomiGusuku city has been developed prominently quickly, with data showing its growth at the top level in nationwide statistics and rankings, now it has been almost equally highlighted just like Chatan town has been.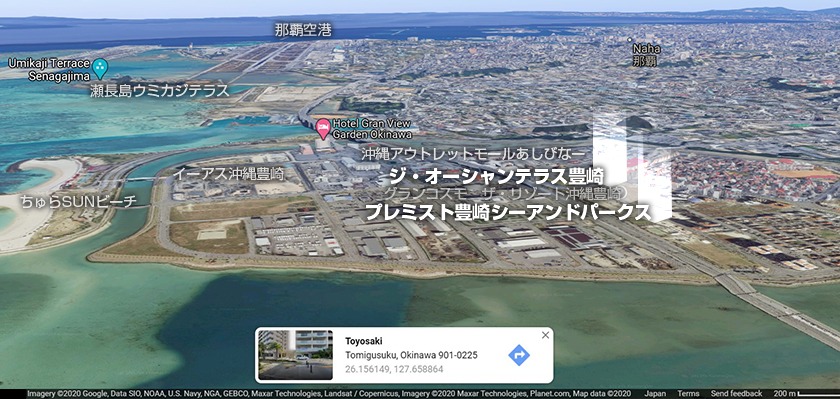 Located in a short distance from the airport as close as within only about 15 minutes by a car, with one of the largest beaches in Okinawa (700 meters wide), and one of the biggest shopping malls in Okinawa, we can now fully recommend this place as your branch base in Okinawa for people busily travel around multiple cities from the airport.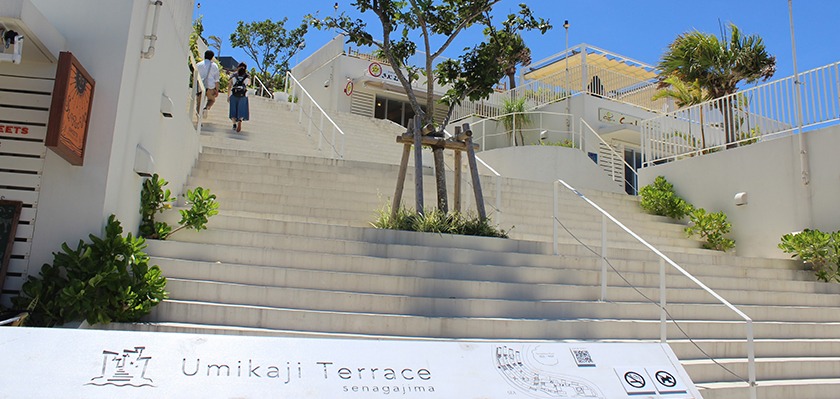 Connected with the west coast through the mid-ocean road, Senaga Island has a lot of pretty cafe and restaurants, bars and shops, mostly small sized modern shops, "Umikaji Terrace" is located on the hill slope, and on the top there is "Senaga Island Hotel". Those buildings makes themselves like a commune, a new kind of townscapes.
In the evening, you can also enjoy beautiful sunset sets to the Kerama Islands. A dynamic scenery with airplanes flying over your head from and to Naha Airport is also an interesting experience.
Not just tourists, but also local residents in Okinawa also like to go visit here as a destination once in a while.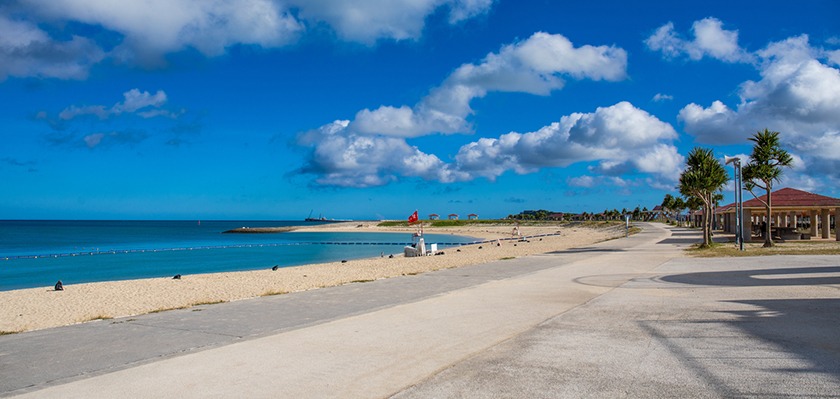 At the paved and designed "Chura SUN Beach", there are enough space for large number of cars for parking. This is why many large scale festivals used to be hosted at this beach as the venue in the past.
In the vicinity, there has been a large shopping mall "Okinawa Outlet Mall Ashibina", and in addition to this, there is one another new shopping mall "IIAS Okinawa Toyosaki" has been established in June 2020. At the facility "TOMITON Toyosaki Life Style Center" you can enjoy grocery shopping and alike with some premium items at a level above ordinary, which will enrich your life a little bit.
Location-wise, everything has been built with zoning schemes and future plans above the land without anything formerly, it contributes to the clean atmosphere, and its functional features to a sense of coolness.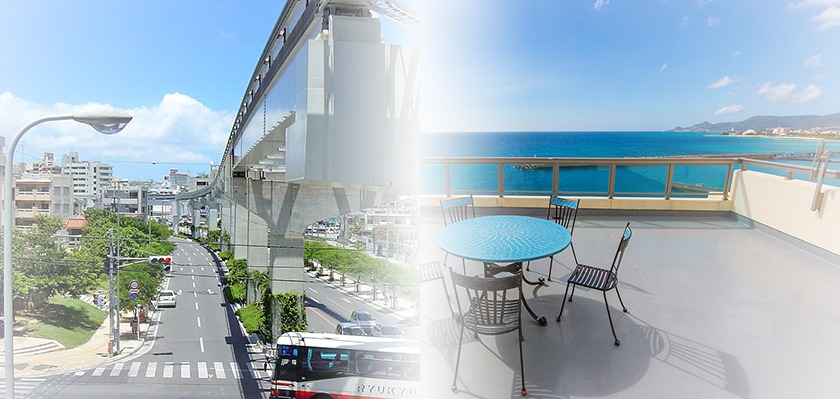 In many cases when city lifers start considering stays in Okinawa for the first time, it should be difficult to decide whether to choose city areas or complete natural living environment mainly up north. In such cases when you cannot still decide on, it could be a good choice to choose to stay somewhere with public transportation like airport and trains, and the living environment is similar to where you are now. Why don't you take "TomiGusuku" an a new option?
Some of the condominiums we have been managing includes "The Ocean Terrace Toyosaki" and "Premist Toyosaki Sea and Parks", but right in between these two buildings, "Grand Cosmos The Resort Okinawa Toyosaki" will be completed in the summer of the year 2021. This will make this area such a great district for premium apartments with the highest quality standards.
The number of the rooms we manage in TomiGusuku is not too many compared to that of Chatan, so we have to go with "first-come-first-served basis" always when we have availability, but we definitely would like to recommend this area for people who enjoys dual location life from and to other prefectures, or for people who likes shopping at the center of the city areas.
Not only for ordinary tourism, but also for workation, work and vacation combined, Okinawa has been chosen by many people who seeks out the new normal life and work styles. We would love to support your next stage to come to Okinawa for switching ON and OFF between Work and Vacation, and for emigrating into Okinawa, lowering the risk of emigrating all at once without testing the water. Another idea is to test out the life in Chatan for one month, and another in TomiGusuku. it could be another way to enjoy and minimize the anxiety.
Enjoy your Long Stay in Okinawa, that might change your life!
Here are some apartments in TomiGusuku
The Ocean Terrace Toyosaki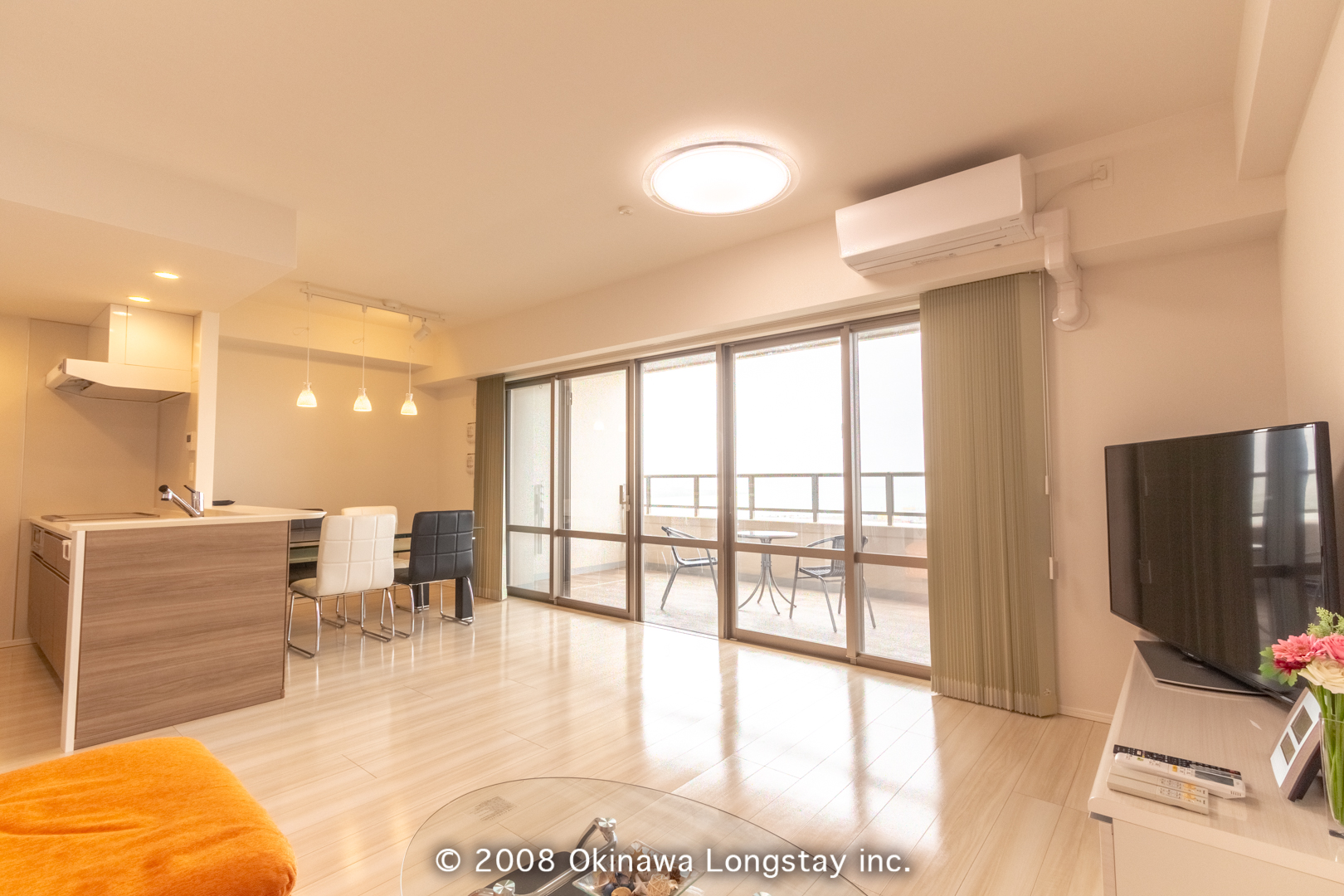 New townscape built in December 2016, 14 stories building for resort life. Reside, Enjoy, and Relax.
Multi-layered prominent area offers a living with ocean and horizon right in front of the window. It is just gorgeous.
The Ocean Terrace Toyosaki 13A, room detail here
Premist Toyosaki Sea and Parks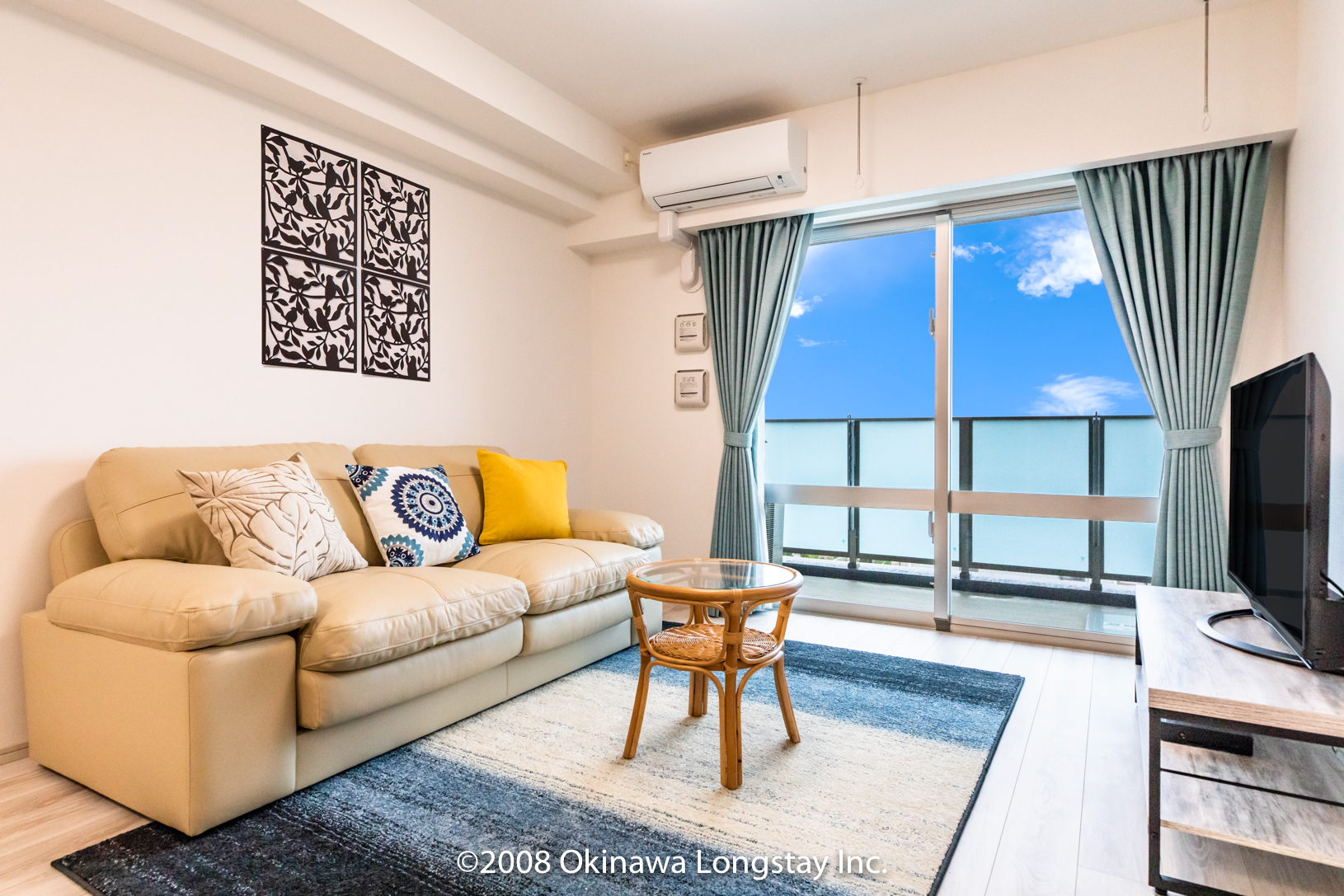 Built in February 2019 at Toyosaki water front area with a lot of development undertaking, it rises up as a 15 stories resort apartment building. Make the extraordinary Okinawan beautiful scenery your next ordinary. Hotel-like quality environment for your stay.
Premist Toyosaki Sea and Parks 3A, room detail here