Okinawa, the southern island of Japan, one of the most popular resort locations among others. When you just arrived at the Naha Air Port, you would feel the warmth and softness of Okinawa up in the air. It takes only one hit of a moment to feel your skin unwinds, you never be able to forget the breeze you feel at the airport.
You would say in your mind "I'm back in Okinawa, I'm home".
Trip to Okinawa always starts from a few days of stay, and for the next time further longer by extending the period to a week, then as you go along repeating the trip to Okinawa, you would always wanted to stay even longer than the last time each time. If you are one of Okinawa lovers, maybe you are saying "This year, I will stay here longer than the last time!", yes it's you!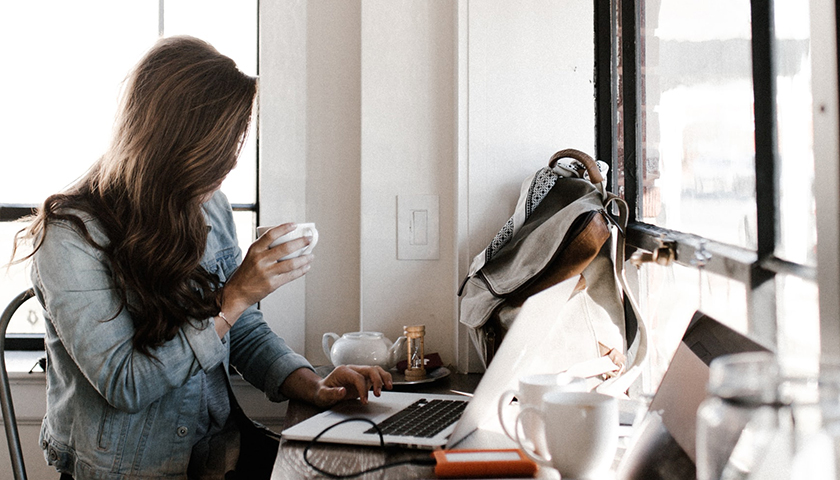 Why not think a little bit further while reading this column together?
We will walk you through 3 patterns of simulations for who are considering a long stay in Okinawa with questions like which-is-which uncertainty right now.
We would appreciate it if you find it helpful at least to clear up your mind!
– Hotel for 1 month
Gorgeous entrance, hospitality by the staffs, and full services during your stay, restaurants and great swimming pool, and located at the center of tourism.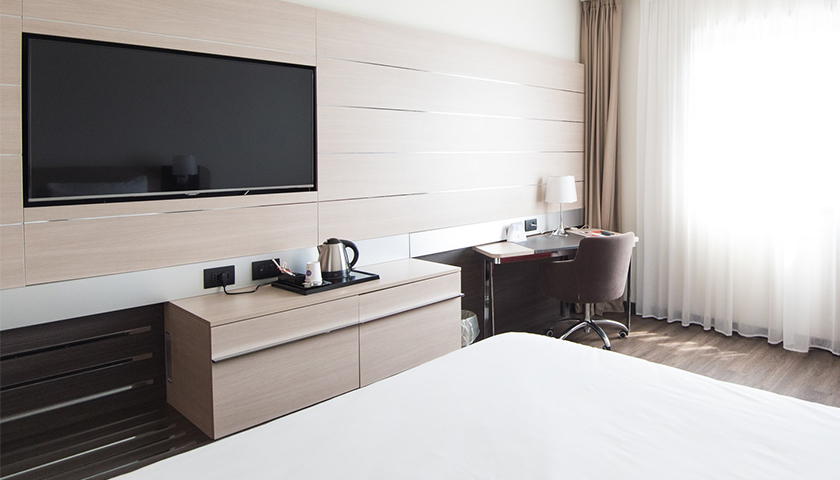 In the room, there is no kitchen, thus you need to go out to eat. For a few days it will be such a nice break from everyday life, but you might start to think about your health and that of your family members.
As for the cost simulation, Flight and local Transportation like car rentals, in addition to the hotel staying cost amounting to 10,000 JPY for simple calculation. And also you will be spending for everyday breakfast, lunch and dinner, and some drinking and entertainment expenditures. All adds up to about 20,000 – 30,000 JPY per day.
– Vacation Rental with Okinawa LongStay for 1 month
Bed, Sofa, Kitchen wares, Table wares and all the apparatus including electric appliances, all equipped in your living environment. On the day ONE when you arive, you can start just another normal day, but in a different location like the resort island Okinawa.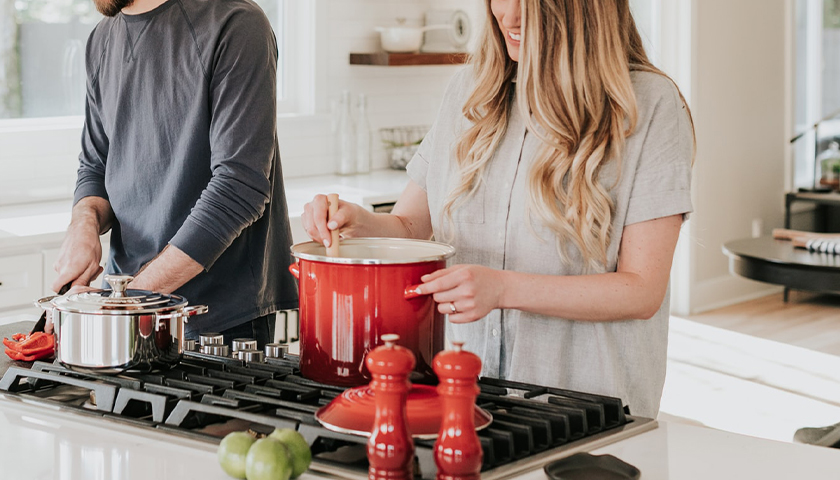 Since our Vacation Rental service is to provide luxury and resort apartments for rent to the excellent guests while the owner of the property is not using it, the experience you would get is much unique and its highly valued resort life will come true to you, too.
You would enjoy grocery shopping at Supermarkets which is convenient for daily life and also you can discover some local cafe and restaurants in the residential area hidden and not written on guide books.
The set price we Okinawa Long Stay provide also covers utility fees such as water, gas and electricity, Internet, etc. If you would consider an apartment room with its rent at 240,000 per month, 8,000 JPY for a day if divided by 30 days.
With the kitchen and supermarket, you have options for your diets, which in turn appears on the balance sheet also at the end of the month.
Some other things that would not easily be calculated are the costs on the maintenance and restoration of the apparatus and facilities when it is needed.
Unlike the normal apartment rent, you don't have to take care of those situations by yourself, because all the furniture and facilities at our Vacation Rental service all included with periodical maintenance and customer support.
– Normal Apartment Rent for a month
Such thing is impossible to just stay for a month because the normal apartment rent is always with contracts for 2 years, and also you have to search for apartment for rent while traveling as a preparation to emigrate. Maybe another trip could also be required for checking the real room and contracting with the owners and real estate shops and companies.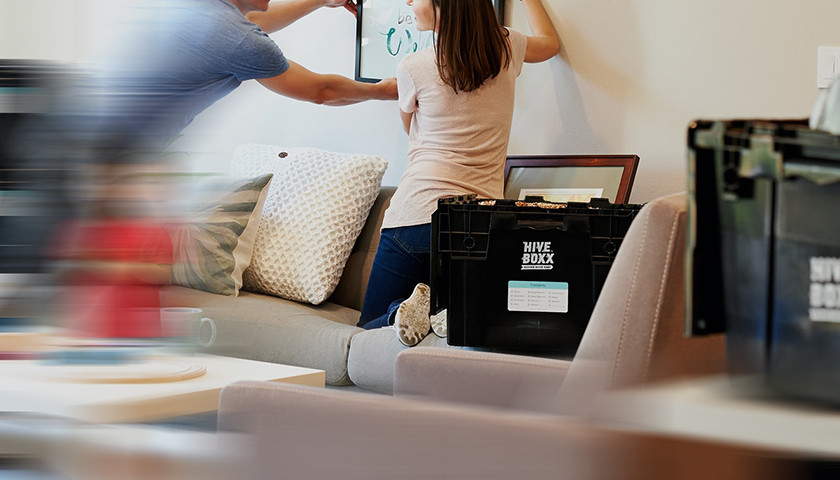 New location for your new life, new relationship with new people, and also shopping for furnishing your room to your liking, upgrading your kitchen wares… Many exciting things and anxiety thinking about how to have good relationships with new neigbours at the same time. It is great for people who cannot stay at one place for more than two years, orfor who always like moving in and out although with furnitures.
For example, if Okinawa Longstay set the price for the same room, let's say 240,000 JPY for a month, some rooms somewhat similar could be available for 200,000 JPY in the normal real estate industry.
It starts with moving out from your current location to another, stuffing everything, with some left overs to disposals, into containers and get them transported on the land, and shipped to Okinawa via ocean transportation. Then again, from the port to the new location with land transportation.
It takes at least one week just to settle the date for ocean transportation which you have to pick a day from the availability on the transportation company.
Even with some items you have some emotional attachment to should be removed without a choice, sometimes. Then you will pay the deposit for 2 years rent, key money, and insurance, plus some budget to buy new electric appliances and furniture, it all adds up to 1,500,000 – 2,000,000 JPY as initial installation cost on average as smallest budget.
When removing some of your furniture, it will cost some disposal fees, too.
After removing everything and come to Okinawa without anything, then you still have to buy new set of everything which amount to more than almost the same cost.
These initial cost when divided into 2 year, 24 months, it would be 60,000 – 80,000 JPY per month, with additional cost for utilities such as water, gas, electricity and Internet could be somewhere like 30,000 JPY per month at least.
In total is could be 300,000 JPY for the room you thought could cost only 200,000 JPY per month. Rough calculation as 10,000 JPY per day will be a fair comparison.
Conclusion
– A few days of trip, Hotel is the optimum for sure!
– One month to multiple months, or for a few years,
and also for preparation to emigration and workation(work + vacation combined),
or busy dual location life
Okinawa Long Stay should be the optimum choice
– Complete emigration and if You have determined
to stay at the room for at least 2 years
And if you have decides to buy everything from nothing,
Normal Apartment Rental is desirable for you
In any case, to avoid much risk to completely emigrate to Okinawa all at once, and to research a little bit more about the district and area where you will be residing, we recommend you to stay in Okinawa for at least one month, it could be better than putting some money onto insurances in the financial market?
Now with more concrete idea with a realistic situations, let's take a look at the rooms that will make your dream life come closer in the future!
Recommended!
Bears Court Mihama Sunset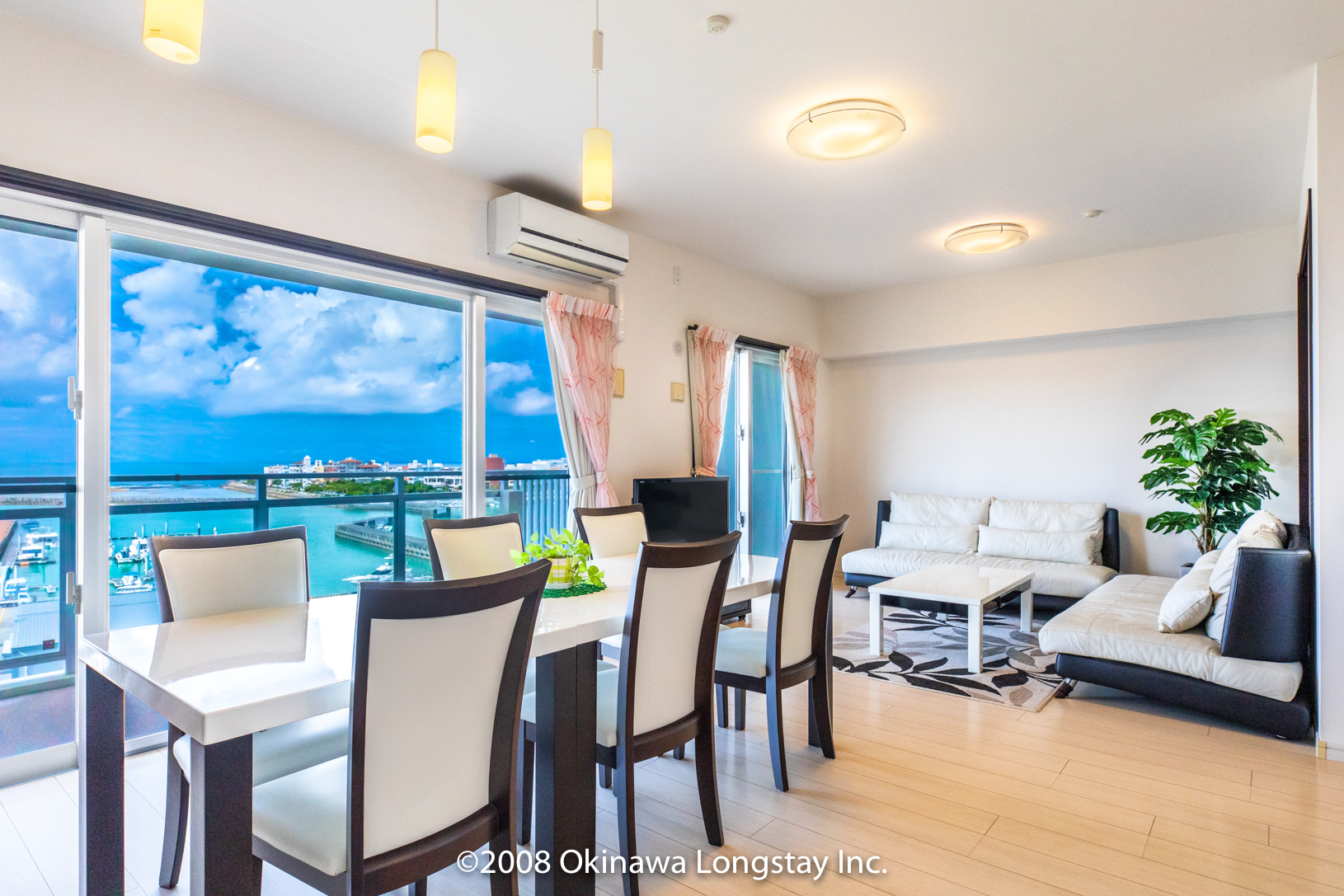 Right in front of the harbor location. Wide opening to the balcony with the view, with furniture and kitchen in integrated designs, you can enjoy the sunset into the horizon of the ocean on the east coast, dinner from your kitchen with some wines will be a complete night package.
Bears Court Mihama Sunset Details here
Recommended!
COLDIO Sunset Resort Camphoo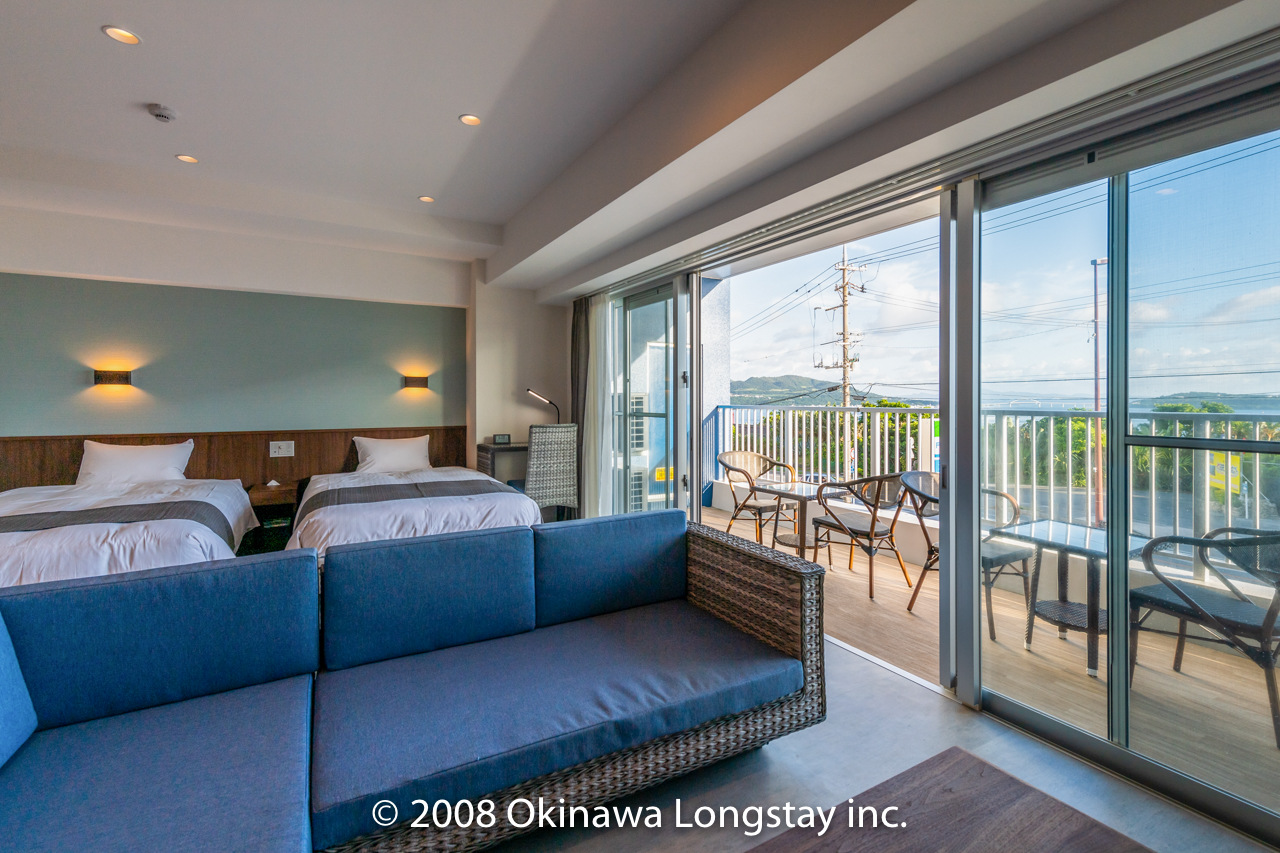 Southern island resorts interiors in the living room, bed and sofa boldly set at right at the center of the room. Balcony has the anti-slipping sheet with the modern feature of wood patterns that give more natural sense of living in the nature. With the living room and balcony connected as one room gives you a much more wider usage.
COLDIO Sunset Resort Camphoo Details here
Recommended!
URTORE Mihama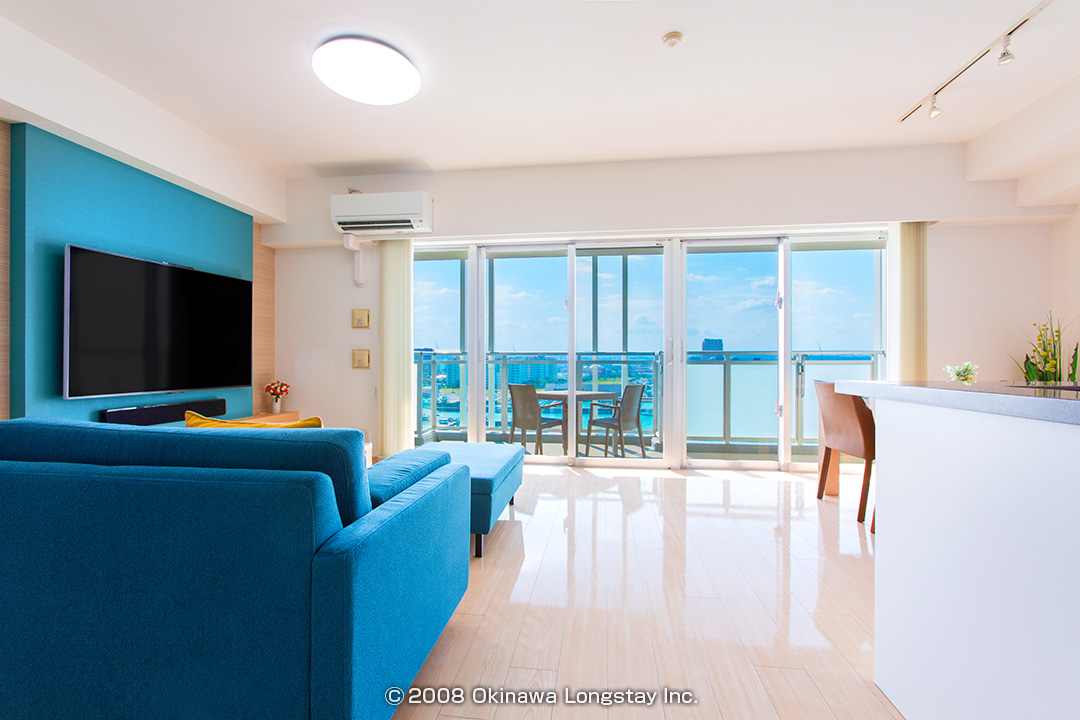 An entrance carriage car porch like a nice hotel, a wide public space with lobby lounge and water fall, swimming pool and a party lounge on 18th floor where allowing you to have some great sunset experiences. URTORE Mihama is the destination for everyone who likes to enjoy the life actively. Once a life time experience. The room has the finishing with the highest grade, especially for this room, cerulean blue accent cloth and the furniture colors up your life on the seaside.
So, What do you think?
Okinawa Long Stay has been selected by most selective people, the reason is almost revealed?
We would like to welcome you and we are looking forward to supporting you in the near future.
Or, Call Now! or feel free to give us your enquiry on the enquiry form.